Chamber Staff: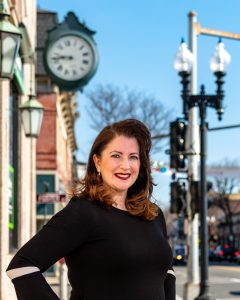 Jennifer Manning, Executive Director
Jennifer Manning joined the Melrose Chamber of Commerce as its Assistant to the Executive Director in February 2018 and was promoted to Executive Director in March 2021.
In this role Jennifer oversees the presence for the 300-member chamber, including the organization's administration, finances, communications, marketing, government relations, board relations, and volunteer management. She is responsible for leading and executing the Chamber's four signature community events and monthly networking events.
Jennifer has extensive Administrative Management experience working in the Higher Education and Global Executive Recruiting industries. Jennifer is a graduate of Boston University. She has served as a Board Member and Clerk of the Melrose Education Foundation and is an active volunteer in the community and within the Melrose Public Schools system.
A lifelong Melrose resident where she resides with her husband and two children, she is excited to give back to her hometown through her role at the Chamber.
Chamber Volunteers:
Chamber volunteers assist with the annual Summer Stroll, Victorian Fair and Home for the Holidays events, as well as with small projects and initiatives throughout the year. Volunteering with the Chamber is a great way to get involved in the Melrose community, without a large time commitment, and you do not need to be a member to volunteer. Please contact the Chamber if you are interested in getting involved with a great group of people.