The Victorian Fair may be cancelled for 2020 but the Big Ticket Raffle is back!
Presented by the Melrose Chamber of Commerce and Rockland Trust, every year Melrose Chamber members donate amazing prizes to the Big Ticket Raffle! Raffle tickets are $10 each and can be purchased at the locations below as well as via phone and online.
Only 500 tickets will be available for purchase, and winners have the chance to win ten prizes. Winners will be drawn on or around October 16th with the drawing streaming on Facebook live. Winners are pulled at random and win the prizes in order from the bottom up. All winners will be contacted by Chamber staff and the complete winners list will be posted here.
Scroll down for information on how to purchase tickets.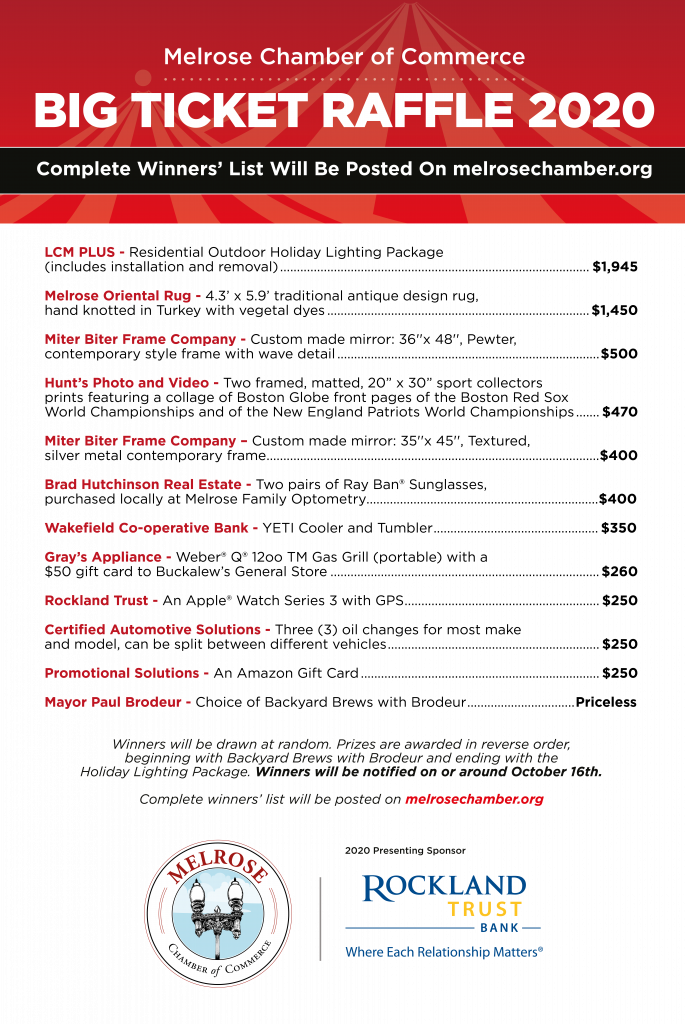 TICKETS ARE SOLD OUT
Drawing scheduled for Monday 10/19
How to Purchase Tickets
Online:
Click the button below to purchase tickets online. **SOLD OUT***
In Person at the following Chamber member businesses:
Hourglass Gift Gallery, 458 Main Street, downtown Melrose, 781-662-1229
LCM PLUS, 19 West Foster Street, downtown Melrose, 781-662-0883
Miter Biter Frame Company, 479 Main Street, downtown Melrose, 781-665-5552
Rockland Trust, 27 Melrose Street (Whole Foods Plaza), 781-665-3300
We recommend calling ahead for current hours of operation. Please have cash or a check made payable to Melrose Chamber of Commerce.
Another way to support the Chamber is to purchase a custom-made Melrose ornament! Check them out here, while supplies last!