These resources are constantly being updated with current COVID-19 related information on the Federal, State, and Local levels. As always we advise you to do your own research and read through the information carefully.  Chamber members will also receive ongoing communications via email.
The Chamber is committed to supporting our members during this time. Reach out Lauren Grymek or Jennifer Manning at the Chamber office if we can help support your business/organization, answer questions or help you find resources.
Read a statement given by Lauren Grymek at the April 27th Melrose City Council Meeting about what the Chamber is doing to help our small business memebrs at this time.
Learn more about what the Chamber is, and how we work for our members and our community.
Watch a cool video creted by Melose Chamber members to show the community that Melrose is open for business!
9/11/2020 - Time Sensitive Grant for Melrose Businesses: Melrose businesses can now apply for the Massachusetts Microenterprise Assistance Grant Program.
A microenterprise is defined as a commercial enterprise that has 5 or fewer full-time equivalent employees, including 1 or more of whom owns the enterprise and must be a for-profit entity. The City of Melrose will be receiving $175,000 to support small businesses in the community.
Massachusetts Growth Capital Corporation (MGCC) will serve as the Program Administrator. Applications are available here and are due by September 25th at 5:00 PM.  22 other cities and towns are also part of this program, click here for the full list of participating communities, in case your small business is not in Melrose.
Click here for more details.
Reopening in Massachusetts
City of Melrose COVID 19 Updates and Information Website
Making Sense of Small Business Administration Loans - Chamber Newsletter
ConnectPay Payroll Services Covid-19 Small Business Resources and Updates webpage
News, Resources and Info for Small Businesses - Chamber Newsletters

List of Massachusetts PPP Lenders

- Link

List of Resources for Small Businesses & Non-Profits During the COVID-19 Emergency - Senator Jason Lewis' Office -

Link
Support Your Fellow Chamber Members
Chamber members are adapting, adjusting and doing creative things to keep their business or nonprofit going during this time.

View

a list

of what Melrose Chamber members are doing, so you can support them during this time.

We want to know what you're doing so we can promote it. Chamber Members who want to be added to the list should

email Lauren Grymek

with their information.
Chamber Members Offering Guidance, Advice, 

Services - Free Help and Support!
Many of our Chamber members have guidance, advice and services to offer business owners at this time.

Click

here

to view a list of services you can take advantage of.

To be added to this, Melrose Chamber members should

email Lauren Grymek
Pandemic Unemployment Assistance in Massachusetts
Pandemic Unemployment Assistance (PUA) provides up to 39 weeks of unemployment benefits to individuals who are unable to work because of a COVID-19-related reason but are not eligible for regular or extended unemployment benefits.
PUA is a program open to the following individuals:
Self-employed individuals, including gig workers, freelancers, and independent contractors

Those seeking part-time employment

Claimants that have an insufficient work history to qualify for benefits

And claimants that have been laid off from churches and religious institutions and are not eligible for benefits under state law
Click here for complete details.
Guidance for Massachusetts Businesses on "Essential"
The Massachusetts Executive Office of Housing & Economic Development has a few important points regarding requesting an essential services designation. Businesses already deemed essential based on the "COVID-19 Essential Services" current guidance do NOT need to apply for an Essential Service Designation:
Businesses that are NOT covered under current guidance can submit an online request to be designated as essential for the purposes of the Emergency Order:
Complete the Essential Service Designation online

request

Please ONLY request a designation if your business is NOT currently covered by the "COVID-19 Essential Services" guidance
COVID-19 Resources and Guidance for Businesses
The Massachusetts Executive Office of Housing & Economic Development has a list of resources for businesses in the Commonwealth impacted by COVID-19. See the list of resources
here.
Small Business Tax Relief: Restaurant and Hospitality Sectors
The Baker-Polito Administration announced administrative tax relief measures for small local businesses which have been impacted by the ongoing COVID-19 outbreak, especially in the restaurant and hospitality sectors. 
Read more
here.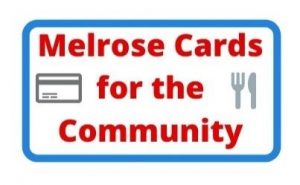 The Melrose Chamber of Commerce and our community in Melrose, MA are helping our neighbors during this time of the COVID-19 pandemic through a special program, Melrose Cards for the Community, a gift card giving program for local residents in need.